Are you looking for a total body, high intensity, low impact workout that gives you the cardio training you want in a safe and effective way?   
 Look no further, Bakersfield.  Meet the Versa Climber!!   
 This calorie blasting, climbing experience is different from any other workout you have tried before.  Unlike most cardio machines, the Versa Climber gives you no momentum which forces your body to do all of the work!  You will use your upper body, core, and lower body to BLAST calories while having fun in a 30 min group training session that will leave you sweaty and wanting more. 
Compared to its competitors, the Versa Climber is more effective at burning fat and calories in a shorter amount of time.  While treadmills, ellipticals, rowers, and spin bikes burn an average of 13-14 calories/minute, the Versa Climber burns over 22 calories/minute while shredding your glutes, quads, back, arms, and core! 
The vertical body position used on the Versa Climber is rare among cardio machines.  Not only does this position remove the impact on the body and the joints, but it challenges the body through push-and-pull movements that work the entire body.  
Simply put, classes at CLIMB are for
busy people with
SH*T to do!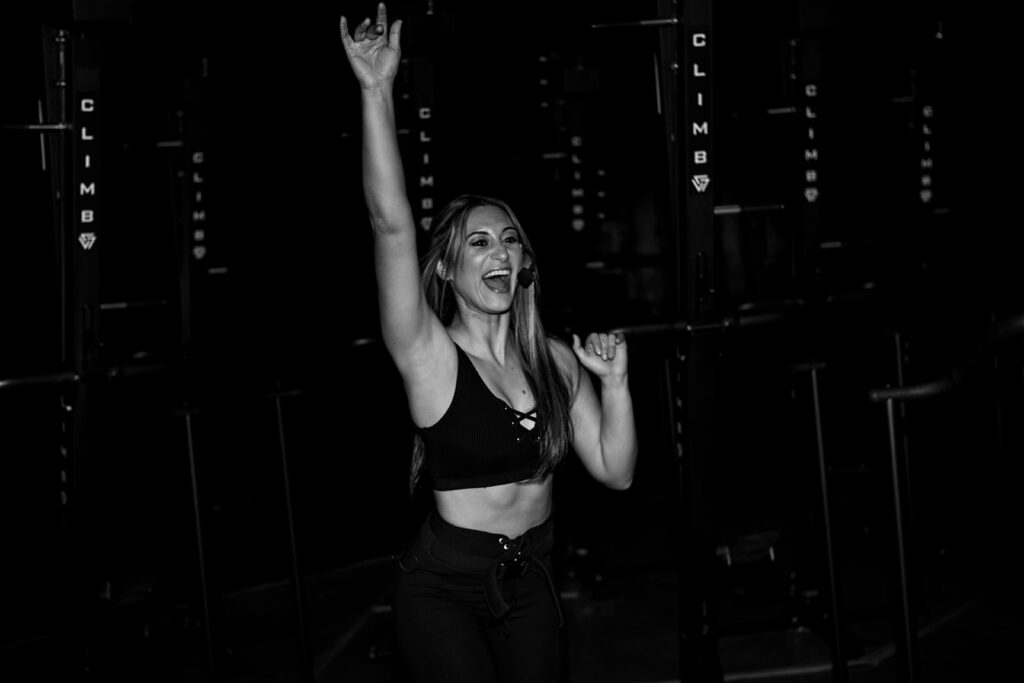 All fitness levels are welcome to CLIMB with us!  During this 30-minute class, expect to be pushed to the limit with non-stop climbing.  You will climb a total of 1500-4000 ft. in one class.  But don't worry, our bumping music and amazing instructors will keep you pumped up and motivated to climb even higher! 
memberships & Class Packs
You don't get the A$$ you want by sitting on it!  If you need your cardio fix, you may as well get it while sculpting your shoulders, arms, abs, legs and glutes while avoiding all the impact your body faces with other methods of cardio.  Find out why super-athlete Lebron James calls the Versa Climber his "girlfriend"! 
*ALL CONTRACTS ARE FOR 3 MONTHS AND WILL AUTOMATICALLY RENEW MONTHLY AFTER THAT. YOU ARE BILLED THE FIRST MONTH NOW AND YOUR SECOND MONTH WILL NOT BE BILLED UNTIL THE SECOND MONTH THAT WE ARE OPEN*
Never Tried VersaClimber Before? We recommend the TWO WEEK UNLIMITED new client pass!
*This is only available to new members
LVL Fitness has been known in the Fitness game for years and we pride ourselves on having the best instructors in town. We promise to deliver an amazing workout that is not only fun, but will give you results!
What People Say ABOUT CLIMB
I love cardio workouts like spin and bootcamps that incorporate cardio, but CLIMB by LVL Fitness offers cardio while toning my lower and upper body. I'll never go back to a traditional cardio machine. PLUS its only 30 minutes so I can always squeeze it in a few times a week". 
Getting Ready For your first class
In order to get the most out of your workout, you need to come prepared for class.
Hydrate Up – We will be sweating a lot in class, so be sure to drink plenty of water before, during and after class. Bring your favorite water bottle with you!
Fuel up – You need some energy to get through this climb. Have a snack or small meal 30 min-1 hour before the start of class.
Gear Up – Nothing fancy is needed for class, just comfortable workout clothes (athletic top, leggings/shorts) and athletic shoes.
Set Up – If it is your first time with us, be sure to arrive early so that you can get setup with your climber prior to class.
If you have any questions please
Text us at 661-218-1235
Call us at 661-570-0221
POLICIES
Please arrive at least 

10

 

minutes

 prior to the start of class. First time clients not present 5 minutes prior to the start of class will NOT be allowed to take class. All first time clients MUST receive an overview of the method and machine prior to their first session.

If you are unable to make the class please call or text the studio to notify us so someone else can enjoy a workout on the Versa.

The door will be LOCKED at the START of class and late entrance is not permitted. You will be charged as if you are a no show.
All classes require a 12-hour cancellation notice.

If you do not show up for your scheduled class, package holders (including monthly memberships) will lose a class credit.  Unlimited memberships will be charged a $20 no-show fee.

The door will be LOCKED at the START of class and late entrance is not permitted. You will be charged as you are a no show.
All clients must have a towel. These are available for purchase at the studio.
Allows one class per day.

$20 fee for no show or late cancellation of the class if a class is not cancelled in advance of the noted 12-hour cancellation period

If you wish to cancel your membership, please submit via text message 30 days in advance of the next billing cycle.

You may pause your package for one month twice a year
Registering for the waitlist is treated the same as registering for a class. When prompted to join the waitlist, choose "Yes, add me to the Waitlist." You will be notified up to 12 hours before the class if you have been added into class from the waitlist. If your plans change, please remove yourself from the waitlist to avoid being added in to class. If you are added into class and do not attend, package holders will lose the credit and unlimited members will be charged $20.
All class sales are final. Classes are not eligible for transfer, refund or exchange. Classes and packages expire after six months from purchase.
Instructors and classes are subject to change without notice.
All classes must be pre-paid through MindBody or purchased at the front desk prior to class. A valid credit card is required for all accounts.
Clients must be at least 16 years old to attend classes. Any client under the age of 18 must be accompanied by a parent or guardian.
All monthly membership contracts have a minimum commitment of 3 months.  After that time, your membership will continue to auto-renew unless a written request has been made.  Requests must be made in writing via text 30 days in advance of the next billing cycle for cancellations or account holds.
Your attendance in any CLIMB by LVL Fitness class implies consent given to be captured in video or photography by staff members or media sources.  Climb by LVL Fitness reserves the right to use all materials (photos, videos and audio recordings), without restriction in promotional materials, advertising, news articles, website content, social media and any other manner of marketing.
If a member prefers not to have their image captured while participating in any class, they reserve the right to advise a staff member or teacher prior to the beginning of their assigned class.